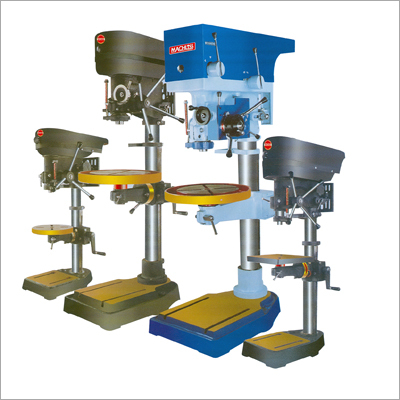 Trade Information
Cash in Advance (CID), Cheque

Customize Per Day

Days

Pack with Gunny bags.

Australia, Central America, South America, Eastern Europe, Western Europe, Middle East, Africa, Asia, North America

All India
Product Description
Having in-depth market experience of this domain, we are engaged in putting forth a quality examined range of Geared Head Drilling Machine. The offered machine is manufactured at our highly advanced premises with the aid of contemporary techniques. The provided machine is especially utilized for drilling holes in hard metallic components and find application in heavy duty industries. Made available in different technical specifications, this Geared Head Drilling Machine can be purchased at marginal rates from us.

Key points:
Smooth operations
Featured with advanced components
Easy to maintenance
Longer service life

Simple & Geared Model Drilling Machines
The Gang Drilling Machines are offered with two or more drilling units fitted on common table assembly. Common cast iron bench is made of close grained cast iron, is provided with machined T-slots and have common coolant channel all around it. The Gang Drilling Machine is fitted with drilling head of capacity 15mm to 32mm with drilling head (specification same as that of general drilling machines, Stated in the adjacent table). Drilling head, depending on the job height can be easily move upwards and downwards with help of worm and gears fitted in mounting coupling of drilling unit is called Gang Coupleen. This type of set up is highly suitable for mass production of same component with multiple operations at the same point or at same level of job face.

Specifications (in mm)


Common Table Assembly
Suitable for mounting of

Overall Size
Length & Width

Working Surface
Length & Width

Five Spindle Units

2140 x 540

2015 x 355

Four Spindle Units

1735 x 530

1620 x 350

Three Spindle Units

1320 x 540

1205 x 350

Two Spindle Units

910 x 530

780 x 350

Single Spindle Units

760 x 610

650 x 380

Height of common Table
: 790 mm for E,, 830 for rest.
Distance between two spindle
: 450 mm
No. of 'T' Slots
: 2
Size of 'T' Slots
: 12 mm
Max. distance from Spindles Nose to Table
20 mm Drilling Head = 500 mm
25 mm Drilling Head = 510 mm
32 mm Drilling Head = 510 mm
Specifications (in mm) Applicable for Drilling Machines & Drilling Heads of Gang Drilling Machines.
Particulars

1

2

3

4

5

6

7

8

Drilling Capacity

12 mm simple

15 mm simple

15 mm geared

20 mm simple

20 mm geared

25 mm geared

32 mm geared

40 mm geared

Spindle Travel

75

100

100

120

120

150

160

185 mm

Spindle Centre to Column

160

175

180

220

220

260

285

385 mm

Spindle Nose to Table (Max.)

380

480

580

570

585

715

620

700

Spindle Nose to Base (Max.)

395

600

700

760

760

1065

1025

1030

Column Diameter

47

58

58

74.5

74.5

87.5

98.5

125

Morse Taper in Spindle

As per JUG
Drill Chuck

MT-2

MT-2

MT-2
MT-2
MT-3
MT-4
MT-4
Table Shape

Round

Round

Round

Round

Square

Square

Round

Round

Table Size

195 Dia

230 Dia

230

275 Dia

280 x 280

340 x 340

500

500

Base Working Area

200 x 200

220 x 220

220 x 220

275 x 275

275 x 275

310 x 320

370 x 370

460 x 480

Floor Area Required

355 x 210

420 x 240

420 x 240

500 x 300

500 x 300

685 x 410

740 x 480

880 x 575

No. of Speeds

4

4

8

5

8

8

8

8

Spindle Speed with 1440 RPM Motor

725, 1175, 1880, 2950

700, 1150, 1760, 2650

160, 256, 395, 615, 700, 1150, 1760, 2650

640, 865, 1210, 1695, 2350

2990, 1725, 1065, 575, 485, 265, 166, 85

540, 779, 1080, 1490, 250, 180, 130, 90

80, 119, 175, 250, 450, 660, 980, 1420

-

Spindle Speed with 960 RPM Motor

530, 840, 1560, 2650

475, 865, 1475, 2265

-

425, 575, 805, 1130, 1568

1190, 1150, 710, 380, 315, 184, 105, 58

370, 530, 735, 990, 170, 125, 90, 64

55, 95, 135, 185, 335, 440, 735, 1065

160, 220, 300, 400, 520, 700, 925, 1225

Total Height of Machine

870

970

1140

1230

1310

1700

1820

1875

Motor Required

1/2 HP

1/2 HP to 1 HP

1/2 HP to 1 HP

1 HP

1 HP

1.5 HP

2 HP

3 HP

V-Belt Size

A-36

A-39/38

A39/38

A-44/43

A-44/43

B-52/51

B-57/58

B-62

Machine Weight without Electrical

40 Kg.

65 Kg.

85 Kg.

100 Kg.

110 Kg.

210 Kg.

310 Kg.

475 Kg.

Machine Weight packed without Electrical

95 Kg.

108 Kg.

140 Kg.

160 Kg.

176 Kg.

285 Kg.

470 Kg.

640 Kg.

Auto Feed Rate

-

-

-

-

-

-

-

0.04 to 0.1 mm/Rev. (3 Feeds)

Enter Buying Requirement Details